Feast your eyes on the perfect summer treat...sweet and refreshing, a winning combo.
Its time for
Secret Recipe Club again - I love being part of this fun club!
My favorite part of the SRC is assignment day - I love when I get that e-mail in my inbox with the link to the blog that I get to choose my recipe from. I also love that most of my assignments have all come from blogs I have never been to before, it's really a great opportunity to find some fabulous bloggers out there and some delicious recipes. If you are not familiar with exactly how this
club
works, you can stop by the website and learn all about it - maybe even join in! Basically you are (secretly) assigned a blog to checkout, browse through their recipes, choose one to make and blog about it.

It's a lot of fun!
This month my assignment was Colleen's blog, Secrets from the Cookie Princess. Colleen has so many amazing recipes on her blog I had the hardest time deciding what to make. I knew I was going to be baking something for sure, after all, she is the Cookie Princess so I wasn't going to not make a sweet treat. She has things like Samoa Cookie Bars, Butterfinger Blondies and Mexican Brownies on her blog. I had a such a hard time choosing a dessert so I asked Hubby to pick one, he chose these amazing Lemon Bars.
I made these for an outdoor gathering and they held up so well in the heat. I had originally pulled them out of the freezer long before we went to my friends house but they softened up quickly. I decided to put these in my friends freezer until we were ready to eat them, I let them thaw for maybe 10 minutes if that. They were perfect for a hot outdoor event. So refreshing and flavorful. These will be served again in our house - they really were fabulous!
recipe from Secrets from the Cookie Princess
Ingredients:
1 1/2 cups of graham cracker crumbs
1/3 cup of sugar
5 tablespoons of butter, melted
3 egg yolks
1 (14 ounce) can sweetened condensed milk
1/2 cup lemon juice (from 2 lemons)
zest of 1 lemon
1 (8 ounce) tub whipped cream
Directions:
Line a square (9x9) pan with foil.
In a small bowl mix together the graham cracker crumbs, sugar and melted butter.
Press the graham cracker mixture into the lined pan.
In another small bowl, beat the egg yolks. Add in the condensed milk and lemon juice and beat together on low speed for about a minute.
Pour this mixture over the crust.
Bake at 325 for about 30 minutes or until the filling has set. Remove from oven and let cool completely on a rack.
Meanwhile, add the lemon zest to the whipped cream and combine well.
Spread the whipped cream over the cooled bars. Cover the pan with plastic wrap and then with foil.
When you are ready to serve, pull these out of the freezer to thaw a bit. Cut into bars and serve.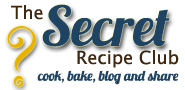 An InLinkz Link-up