A delicious healthy alternative to a fried plantain or potato chip.
Its time for Secret Recipe Club again - I love being part of this fun club! My favorite part of the SRC is assignment day - I love when I get that e-mail in my inbox with the link to the blog that I get to choose my recipe from. I also love that all of my assignments have all come from blogs I have never been to before, it's really a great opportunity to find some fabulous bloggers out there and some delicious recipes. If you are not familiar with exactly how this club works, you can stop by the website and learn all about it - maybe even join in! Basically you are (secretly) assigned a blog to checkout, browse through their recipes, choose one to make and blog about it.

It's a lot of fun!
This month my assignment was This Mama Cooks. I love that this blog is full of healthy dishes and I had a hard time choosing which one to make. I have pinned quite a few like this One Pot Rice and Chorizo Casserole that will definitely be on our dinner table soon. I am also excited to try making my own Chai Ginger Tea - yum!
I was looking for a quick snack to make one day and decided to check out the recipes on this blog. I found this recipe for Healthy Baked Plantain Chips and had to give them a try - especially because Anne-Marie's inspiration came from The Columbia Restaurant in Ybor City. I have been to this restaurant and I purchased their cookbook because I was so in love with the meals (yes, we went twice) we had there.
There are a few different variations to this recipe, I really wanted to make the sweet & spicy version but my Little Man wanted the cinnamon - sugar so I made that one. I loved how easy it was to make this healthy snack, I did add some salt after I took it out of the oven and tasted it. I like some salty with my sweet. I have some more plantains in the house and I may make myself the spicy ones later this week...this recipe is a definite keeper!
recipe from This Mama Cooks
Ingredients:
2 green plantains
1 1/2 tablespoons olive oil
1 teaspoon cinnamon
1 teaspoon sugar
salt to taste
Directions:
Preheat the oven to 400 degrees.
Peel the plantains (you will need a sharp knife for this.)
Slice it thin, a mandolin is perfect for this step.
Throw all the ingredients into a bowl and toss to coat the plantain slices completely.
Line a cookie sheet and lay the plantains out in a single layer on the cookie sheet.
Cook the chips for 16 - 20 minutes, turning the chips at the halfway point.
Sprinkle with coarse salt after removing from oven (optional.)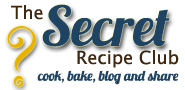 An InLinkz Link-up