Crayola sent me a box of fun crafting supplies and asked me to get creative. The kids were home the other day for their first snow day of the year (woo hoo- I love a snow day!) And they were fighting and staring at the TV (I don't love that part though) and all that other fun stuff. I decided to call them into the room and break out these supplies and ask the kids to help me come up with an idea. They agreed they wanted to make some ornaments, I agreed with them because, well if they agreed on something I figured I'd roll with it.
I left the room to grab some more supplies and when I came back my Little Man had finished his project, a Santa Jacket, It looked amazing! Then he decided it needed pants...and a hat , mittens and finally once he completed the outfit he went ahead and added the face. I think it looks a bit Grinchish but I think its amazing either way!
Sweet Girl made a background to create her masterpiece on and started with a candy cane. She found a small cookie cutter and used it for a star to put behind her last element, an adorable Christmas penguin.
I made a penguin too, in my defense, I made mine before Sweet Girl did - and yes I do realize that hers came out better than mine.
We used

Crayola Model Magic to form our ornaments. And we used Crayola Washable Glitter Glue to add some sparkle.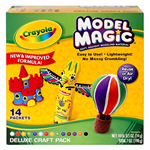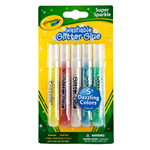 We all loved working with these products, The Model Magic is so easy to manipulate and not too sticky like some clay can become when it heats up in your hands. You can leave the Model Magic out and your creations will harden. That's what we did. We poked holes in the tops and after they hardened we used ribbon to hang them.
We used
Crayola Glitter Glue to add the sparkle you see on the ornaments. I used the clear glitter glue on mine and the kids matched their colors up to the model magic they were putting it over.
We found so many other great ideas for Crayola products on the following sites:
Crayola "Holiday Crafts"
Pinterest Board:
http://bit.ly/1b6oYW0
Crayola Pinterest Page:
http://bit.ly/1aPJep1
Crayola Website –
http://bit.ly/IUcGE
You can follow Crayola here:
Crayola on Facebook – http://on.fb.me/yaQyQt
Crayola on Twitter –
http://bit.ly/WTTjvf
Guess what? I have a fun Crayola Gift Pack to give away to one of you. You will receive the same gift pack I did, it contains:
Crayola Washable Markers
Crayola Colored Pencils
Crayola Glitter Glue
Crayola Model Magic
Crayola Slick Sticks
And A $25 Walmart gift card
a Rafflecopter giveaway
The Crayola product, gift card, information, and additional gift pack have been provided by Crayola.
Dont forget to stop by my other Giveaway
I'm giving a way an Egglands Best Baking Kit - Enter Here!