This is a Sponsored post written by me on behalf of Buffalo Wild Wings for SocialSpark. All opinions are 100% mine.
It's football season and I don't know about your house but in our house, football Sunday is huge.  Hubby and Little Man like to wear their football jerseys all day.  Hubby really enjoys the games, Little Man tries to sit and watch because he wants to be like his daddy and Sweet Girl basically runs and hides or simply goes off and does her own thing.  As for me - it depends on who's playing but I will definitely partake in the football food and drinks.  That is definitely my favorite part of football season.  I love all the munchies that go along with football season.
The one thing that we all can always agree on is taking in a game at our local Buffalo Wild Wings - that is definitely one way to ensure we are all  having fun.  Hubby is happy because he gets to watch the game with a lot of people who are just as excited to be watching it as he is.  The kids are happy with the menu items and having lots of options  and they enjoy the fun atmosphere at Buffalo Wild Wings.  As for me - I am just happy because everyone else is happy and I can just sit back and hang out with my family.  
Buffalo Wild Wings has some great promotions going on right now.  The Bottomless Boneless Lunch is perfect for the kids and for the adults, the debut of Game Changer Beer made by Redhook and offered at Buffalo Wild Wings.  Let's not forget there ongoing promotions too like Wing Tuesday and Boneless Thursday.
A lot of times we like going with a group of friends and the kids all come too.  It's a fun way to enjoy the game with friends and the kids get to do the same.
How do you spend football Sundays?
Have you been to Buffalo Wild Wings?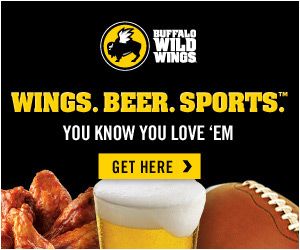 Be sure to Follow Buffalo Wild Wings on Twitter and Like Buffalo Wild Wings on Facebook to keep up with all the happenings and promotions at the locations near you.