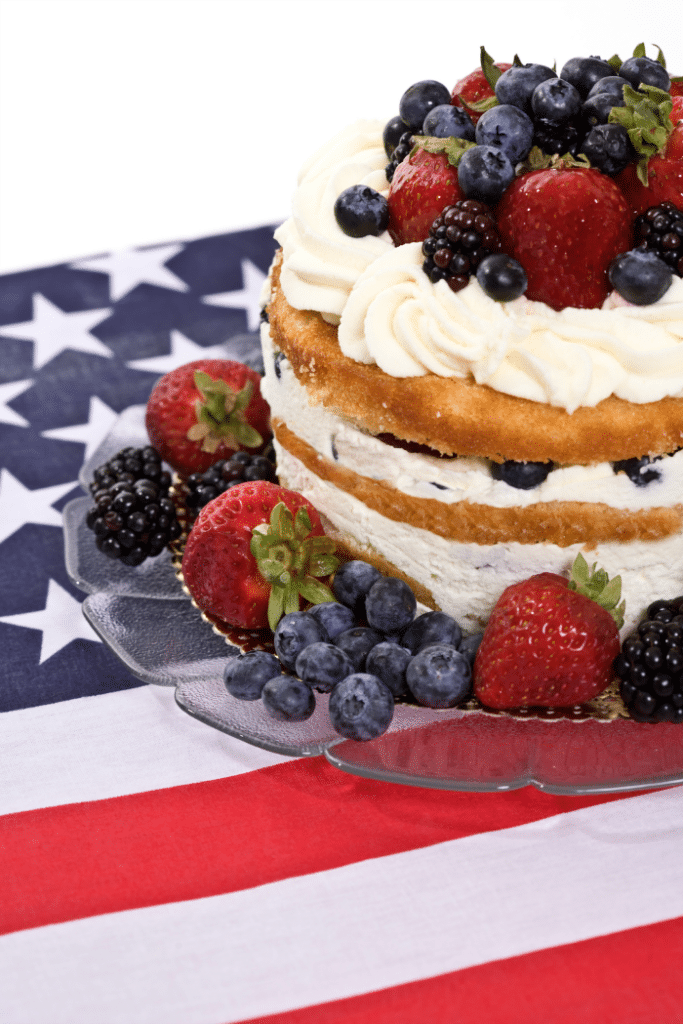 I don't know about you but my favorite part of any holiday is always the food. The Fourth of July is coming up and if you are looking for a great recipe to bring to your upcoming celebration, I have one for you. How about an appropriately named, "Fourth of July Celebration Cake?" This red, white, and blue cake is made with Stevia in the Raw. Stevia in the Raw now comes in a bakers size bag, this means you can use it like you would a bag of sugar. This cake looks great and it tastes even better. I love when my desserts have fresh fruit in them, and how great is it that these fruits are at peak season and follow our Fourth of July theme.
Here is how you make this festive treat in no time at all! The Kids and I will be making this for our potluck in a few days and I can't wait to share this with our friends and family.
Celebration Cake
Ingredients:
Sponge Cake
6

eggs, separated
1/2

teaspoon Kosher salt
1

teaspoon cream of tartar
2/3

cup granulated sugar, divided
2

teaspoons vanilla extract
1/3

cup Stevia In The Raw® Bakers Bag
1

cup finely ground slivered almonds
1/2

cup sifted cake flour
2

teaspoons cornstarch
Filling and Topping
2

(15 ounce) containers partially skimmed Ricotta cheese
1

tablespoon vanilla extract, divided
2/3

cup 1% lowfat milk
1/3

cup Stevia In The Raw® Bakers Bag, divided
2 ½ pints blueberries, divided
1/2

pint whipping cream
Blackberries for garnish
Strawberries for garnish
Directions:
Cake
Preheat oven to 350°F.
Line bottom of 10-inch tube pan with parchment paper.
In small metal bowl, beat egg whites, cream of tartar, salt, with electric mixer at high speed until soft peaks form. Gradually add ⅓ cup sugar beating until stiff and shiny. Set aside.
In large bowl beat egg yolks and remaining sugar with electric mixer at medium speed 3-4 minutes or until thick and lemon colored. Add vanilla, Stevia In The Raw®, beat 1 minute until blended.
Combine ground almonds, cake flour and cornstarch in a bowl and blend well. Gently stir in cake flour and cornstarch mixture to egg yolk mixture. Add egg white mixture, stir gently until well blended. Pour batter into the ungreased 10-inch tube pan.
Bake 35-40 minutes or until golden brown.
Invert cake pan onto wire rack for about 30 minutes or until cake is cool.
Loosen cake from pan. When cooled wrap in foil while preparing filling and whipping cream for topping.
Filling and Topping
In medium bowl combine Ricotta cheese, milk, ¼ cup Stevia In The Raw® and 2 teaspoons vanilla.
Fold 2 pints of blueberries.
Divide the cake into 3 equal layers.
Divide the blueberry Ricotta filling evenly between two of the layers.
In separate bowl combine whipping cream, remaining Stevia In The Raw® and vanilla. Using electric mixer at high speed whip cream mixture until stiff peaks form. Spread a thin layer of whip cream on top layer of cake. Pipe whip cream around edge using a pastry bag. Trim cake with blueberries, blackberries and strawberries.
Serve immediately.
Nutrition Information
Per Serving: 270 calories, 15g fat, 11g protein, 24g carbohydrate, 2g dietary fiber, 170mg sodium, 115mg cholesterol.
Here are some facts to know about Stevia in the Raw:
Stevia In The Raw® is a zero-calorie* sweetener, perfect for any baking and cooking needs

It contains an extract from the sweet leaves of the stevia plant

Stevia In The Raw Bakers Bag measures cup for cup with sugar so it can easily be used in recipes to cut sugar calories – no conversion from sugar to Stevia In The Raw necessary (1 cup of Stevia In The Raw Bakers Bag = 1 cup of sugar)

When using Stevia In The Raw for baking recipes, it is recommended that the user only replace half the sugar in order to achieve the proper browning, rising and caramelizing that only sugar can provide
Check out the following pages to learn more about Stevia:
*Disclosure:
This product, information, and gift card have been provided by In The Raw® sweeteners so that I could try the product and share my thoughts and information about Stevia In The Raw® Bakers Bag. The opinions expressed in this post are my own and do not reflect the opinions of the In The Raw® brand.
"